We have obtained ISO 14001:2015 certification, an international standard, and actively involve ourselves in marine protection activities.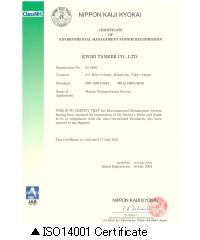 We have developed an environmental protection policy to promote global environmental preservation, in which we especially focus on marine environmental protection activities. We have drawn up a manual complying with the requirements of ISO 14001, which is an international standard for environmental protection, and the manual has been certified by Nippon Kaiji Kyokai(Class NK). Placing priority on controlling marine pollution prevention, our entire team -both seamen and shore-side staff- are making concerted efforts to reduce the burden on the global environment.
We have been certified according to not only ISO 14001 but also ISO 9001; the latter is an international quality management standard. This enables us to better respond to a customer's requests. In July 2005, we were certified according to a revised version of ISO 14001: 2004, with which we expressed our commitment to environmental protection more clearly.

The Company established the Quality and Environmental Management System to meet the requirement ISO 9001:2015 and ISO 14001:2015 for the Customer's Satisfaction, Safe Operation and Environmental Protection as the company policy. This policy provide highly reliable services to our customers who require the "Safe carriage of cargoes through the safe operation of ships". It also aims to reduce the global environmental burden by ensuring safe operation of ships, through the joint efforts of and shared philosophy of shore and ship personnel.

1. Prevention marine pollution and protect the marine environment
Zero Oil Spill activities
The Company have adopted to prevent oil spills for ships by double-hulled not only cargo tanks but also bunker tanks in order to prevent spills of crude oil, petroleum products and chemicals caused by a collision and grounding. In addition, we conduct the necessary shore-based training and education to prevent any incident which may lead any oil spill.
Promote to install Ballast Water Treatment System
Ballast water may have an impact on local ecosystems by introducing foreign marine organism for another location. The regulation of Ballast Water Management was adopted by the IMO in 2004 and work is proceeding on ratification ahead of enforcement. The Company have promoted to install Ballast Water Management System to meet the requirement in cooperation with manufactures and other concerned parties.
Reducing onboard garbage
The Company established onboard Garbage Management Plan requiring separation, collection, storage, incineration and disposal based on MARPOL Convention. In order to reduce onboard garbage and waste, we promote simple packing of ship's stores and motivate seafarers how to reduce generating garbage and waste.
2. Approaches to preventing Air Pollution and Global Warming
Prevention of Air Pollution
Exhaust gases from diesel engines contain NOx (Nitrogen Oxides) and SOx (Sulphur Oxides), which cause acid rain and air pollution. The Company promote to equip with a new-model engines with low NOx emission. SOx is generated by burning fuel oil containing sulphur. To reduce SOx emission, we observe the MARPOL Convention governing sulphur content in fuel oil strictly.
Prevention global warming
Global warming is said to be caused by CO2 (Carbon Dioxide). Ships need to burn fuel oil and these emit CO2 containing exhaust fumes. In order to reduce generating CO2 gas we try to reduce fuel oil consumption by use of energy-saving engine, use of low friction coating, reducing speed and planning best-route in accordance with changing situations.
Reducing soot
The Company conduct necessary training to operate auxiliary boiler system in order to prevent generating soot and smoke caused by improper operation.
3. Approaches to Ship Recycling
The Ship Recycling Convention was adopted in May 2009 for the protection of the marine environment and the personnel health. This convention requires ships to provide the records and updated inventory lists showing the quantity and location of hazardous materials on ships. We start to initiate measures to prepare the inventory to facilitate a smooth response to enforcement of the Convention.
4. Preventing depletion of natural resources
Reducing consumption of fuel and lubricating oil
We are studying energy-saving engines, and are also encouraging our staff to minimize the operating hours of boilers and diesel generators.
Reducing consumption of office supplies
We practice Green Procurement, and purchase equipment and supplies that near the eco-mark. We also raise the awareness of our staff with regard to Green Procurement to avoid unnecessary consumption.
5. Contributing to Society
Continuous ocean weather research
We conduct ocean weather research continuously, and report to the Meteorological Office to support its activities to analyze ocean weather.
Promoting social action programs
We encourage our staff to participate in global environmental activities.