We offer a broad range of education and training to train and secure qualified, top-class personnel.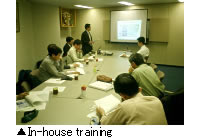 It is said that 80% of marine accidents are attributable to human error. Based on this fact it is considered indispensable for safe operation to secure highly qualified seamen and offer education and training. Taking as many opportunities as possible, we provide Pre-Departure Seminars (PDS), in-house training, and external training. At the same time we provide On-the-job Training (OJT), and we are developing plans for audio-visual training on board.

As the number of foreign crew members increases, we ensure they are fully qualified through various measures such as establishing a training facility in Manila. The repeat ratio of our foreign crew exceeds 90%, and we are proud of having excellent personnel on board. We also provide not only OJT but also cross-cultural training between Japanese and foreign crew members on board.